Deep Dive into Technical Excellence.
Unlock Potential with Skill Dive
Introducing a better way to prepare for real-world scenarios - immersive, curated labs that take you deeper into your training goals.
Train for know-how » Practice for the best result
Skill Dive for Deeper Understanding
Lab Collections


Curated for perfected practice; featuring 2,000+ immersive labs.

Exclusive Labs


Access unique, hands-on content not available in INE's learning paths and training - specially designed to supplement your training and turn know-how into proven skills.

Expertly Curated


Designed by INE instructors to offer an immersive, goal-oriented experience supplemental to INE's training. Lab collections dig into the most relevant, timely skills needed in the field.

Practical Experience


Gain real-world experience through VM simulated environments. Practice data sensitive labs in a risk-free setting.

Comprehensive Choice


Plan your learning journey with dozens of Lab Collections to choose from that match your career goals and areas of interest across Networking, Cybersecurity, and Cloud Computing.
How Does It Work?
SEARCH
PRACTICE
ASSESS
SEARCH
Find the perfect place to dive in. With our curated collections of Networking, Cybersecurity, and Cloud labs, you can search by content, technology, and other options to discover practice areas you want to level up in.
PRACTICE
Test your skills using goal-based labs to find out what you know and where you're headed. Build confidence in a progressive, step-by-step environment - where your training and skills meet.
REPEAT
Discover new collections, new labs, new skills every day with Skill Dive. Once you've mastered a collection of labs - don't stop. Continuous learning is critical to technology professionals. Check back regularly for new labs!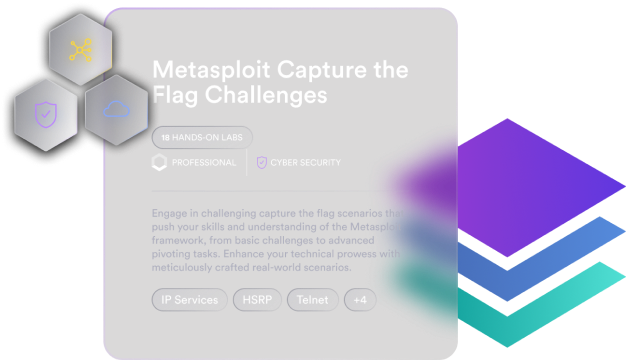 Check out some Lab Collections available in Skill Dive:
How does Skill Dive fit into a training program?
Learn
Our content library and on-demand courses provide you with the foundational knowledge needed to succeed in IT and Cybersecurity.
Practice
Dive deep into exclusive Lab Collections, specifically curated to challenge your skills and reinforce your understanding.
Assess
INE's Certifications and the Skill Sonar tool measure progress and proficiency. Assess your skills to ensure you're always on the right track.
Ready to Dive In?
Experience the power of Skill Dive and solidify your IT training through practical practice.
Get Started with Skill Dive