---
---
Pre-order and Save 25%!!!
Live Courses Start May 1st.
INE is the recognized industry leader in training for Cisco's Security CCIE certification, and you have the chance to join us as we create the next generation of our training material. Pre-Order this series to receive access to view and participate live as each of the 30 modules are recorded, and be the first to download them as they're released.
The completed series will cover all of the fundamental topics you'll need to know, as well as the technologies, hardware platforms, and software features that have been newly introduced in the v5 blueprint.
This series will be taught by industry renowned CCIE instructor, Cristian Matei, CCIEx2 #23684 (Routing & Switching, Security).
Each module will be approximately 8 hours long and run from 9PM to 3AM Eastern Standard Time on the dates listed in the course outline below.
Purchase now at our pre-order discount rate and you'll be able to participate in each class live as it's being recorded; interacting with the instructor and asking questions as the material is presented.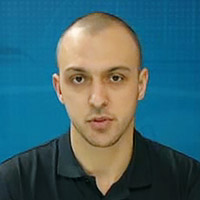 Cristian Matei —
CCIEx2 #23684
---
120+hours
See Course Outline for Schedule
Unlimited HD Access
Train anywhere with our web, iOS, Android and Apple TV apps! You'll also have access to any course updates and additions.
Keep Training, Even Offline
Download the entire course in mobile, high and HD(1080p) resolutions.
Course Schedule

May 1st, 2017

Introduction to CCIE Security v5

May 2nd-3rd, 2017

IOS Firewall

May 4th-5th and 17th, 2017

ASA Firewall

May 18th-19th, 2017

FirePOWER Services

July 3rd-4th, 2017

FirePOWER Threat Defense

July 5th, 2017

AAA Protocols

July 6th-7th and 18th-19th, 2017

Identity Services Engine

July 20th-21st, and 24th, 2017

Access Control Server

July 25th, 2017

Cryptography

July 26th-27th, 2017

DMVPN

July 28th and August 9th-10th, 2017

IKEv1 IPsec VPN

August 11th and 14th-15th, 2017

IKEv2 IPsec VPN - FlexVPN

August, 16th, 2017

GETVPN

August 17th-18th, 2017

SSL VPN

August 21st-22nd, 2017

VRF Aware VPN

August 23rd-24th, 2017

TrustSec

Date TBD

Data Center Segmentation

August 25th and 28th, 2017

Web Security Appliance

Date TBD

Cloud Web Security

August 29th-30th, 2017

Email Security Appliance

Date TBD

Content Security Management Appliance

August 31st, 2017

Advanced Malware Protection

Date TBD

OpenDNS

Date TBD

Lancope

Date TBD

IPv6 Security

Date TBD

Routing Protocol Security

Date TBD

Network Management Security

Date TBD

Layer 2 Security

Date TBD

Wireless Security

Date TBD

APIC Enterprise Module

Dates, times and course topics are subject to change.